To understand the Internet Protocol, we need to learn and understand Binary. It is very important to know and understand Binary because part of the IP protocol is also the "Subnetting" section which can only be explained and understood when an IP Address is converted to Binary!
This article deals with the analysis of IP addresses and covers the conversion of IP address to binary. We explain the conversion process with much detail using our well known diagrams. At the end of the article, readers will be able to understand and explain how IP address to binary conversion is performed and also calculate quickly the 32bit addressing scheme.
Those who are experienced in Binary can skim this section quickly, but do have a look through.
A lot of people are not aware that computers do not understand words, pictures and sounds, when we interact with them by playing a game, reading or drawing something on the screen. The truth is that all computers can understand is zeros (0) and ones (1) !
What we see on the screen is just an interpretation of what the computer understands, so the information displayed is useful and meaningful to us.
Binary: Bits and Bytes
Everyone who uses the Internet would have, at one stage or another, come across the "Byte" or "Bit" term, usually when you're downloading, you get the speed indication in bytes or KBytes per second. We are going to see exactly what a Bit, Byte and KByte is, so you understand the terms.
To put it as simply as possible, a Bit is the smallest unit/value of Binary notation. The same way we say 1 cent is the smallest amount of money you can have , a Bit is the same thing but not in cents or dollars, but in Binary.
A Bit can have only one value, either a one (1) or a zero (0). So If I gave you a value of zero: 0, then you would say that is one Bit. If I gave you two of them: 00, you would say that's two Bits.
Now, if you had 8 zeros or ones together: 0110 1010 (I put a space in between to make it easier for the eyes) you would say that's 8 Bits or, one Byte ! Yes that is correct, 8 Bits are equal to one Byte.
The picture below gives you some examples: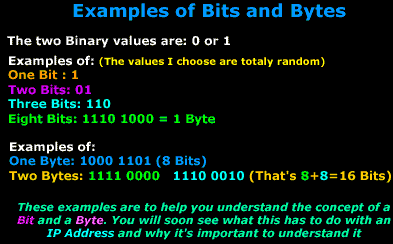 It's like saying, if you have 100 cents, that is equal to one Dollar. In the same way, 8 Bits (doesn't matter if they are all 1s or 0s or a mixture of the two) would equal one Byte.
And to sum this all up, 1024 Bytes equal 1 KByte (Kilobyte). Why 1024 and not 1000 ? Well it's because of the way Binary works. If you did the maths, you would find the above correct.