The Cisco Smart Care Service & Appliance - 4. Assigning and Enabling the Cisco Smart Care Appliance
Page 4 of 6
Assigning & Enabling the Cisco Smart Care Appliance
Once the Cisco Smart Care appliance has registered with Cisco, we need to assign it to the end customer. This process binds the appliance to the specific customer and the contract invoked.
For this process, the partner must log into the Cisco Smart Care portal found at the following URL: https://tools.cisco.com/smartcare/Partner/Partner_Main.jsp
The main page at the Cisco Smart Care portal provides all the necessary configuration and monitoring options for all appliances installed.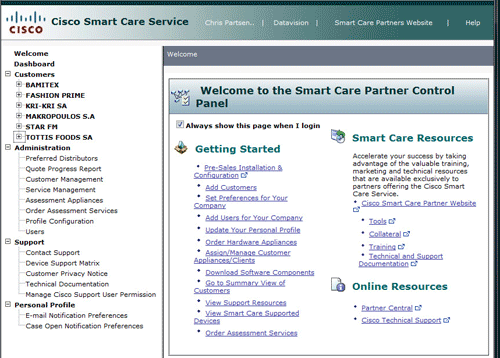 From the menu on the left, we select the Administration menu and then Assessment Appliances to assign the registered appliance to the appropriate customer.
When selected, the Assessment Appliances screen will show all registered appliances no matter what state they are in. As shown in the screenshot below, our hardware client is registered, but remains unassigned to the customer.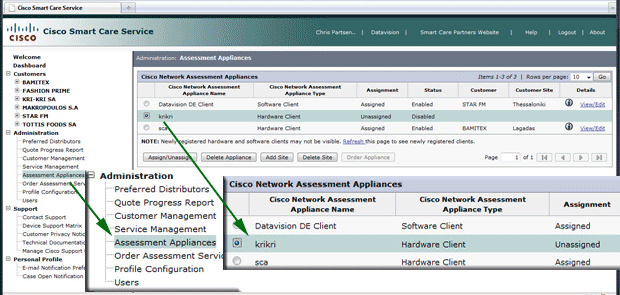 To assign the appliance, we select the appliance and then click on the Assign/Unassign button located on the lower left corner of the Cisco Network Assessment Appliances table.
Once the Assign/Unassign button is pressed, a final confirmation is required before the assignment process begins. After confirming by pressing OK, the process begins: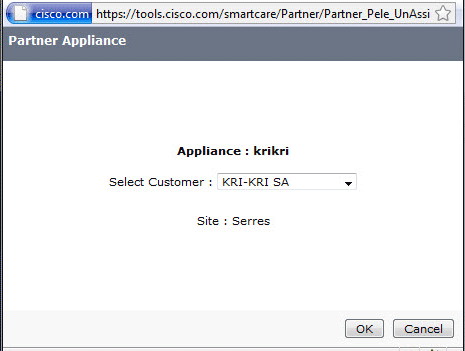 The Cisco Smart Care portal will contact the appliance and after a brief secure exchange of data, the appliance will be assigned to the customer.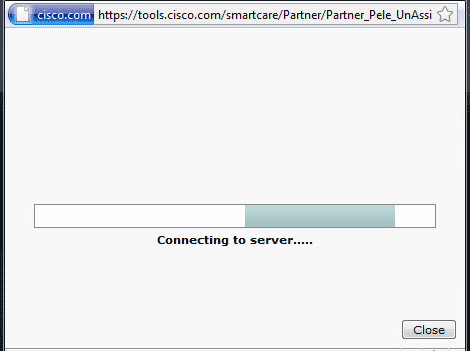 Once this phase of the process is complete, we need to enable the Smart Care appliance installed as the customer's site. To do this, under the customer's menu, we select Administration and then Assessment Appliance Configuration.
Once the page loads we click on view and wait for the next window to open

The next page provides us with the option to finally enable the network appliance installed at our customer's site. Click on the drop-down box, select Enabled and then click on the Save button.

Once the Save button is pressed, the Smart Care portal will queue the necessary commands and send them to the Smart Care appliance to enable it, providing the Cisco engineer with a number of additional tasks within the Smart Care portal.