The Cisco Smart Care Service & Appliance - 2. View of Smart Care Service and Appliance
Page 2 of 6
Cisco Smart Care Service
The Cisco Smart Care service is a new and much sophisticated approach in covering expensive Cisco equipment. The Smart Care service aims to help simplyfy the whole process while providing a lot more for your money.
The Smart Care service of course covers completely everything the SmartNet service does, but also adds the following benefits:
- Simplified Contract. Everything you have with a Cisco logo is covered under one contract.
- Access to advanced Cisco Technical Assistance Center (TAC) for help around the clock.
- Free Cisco Smart Care appliance (Hold on, we'll analyse this soon).
- 24/7 Monitoring of your Cisco equipment.
- Delivers dashboard visibility into network performance
- Proactive network scanning for software vulnerabilities and security risks
- Security assesments of your device configurations according to Cisco's security guidelines
- VoIP assessment of your network (for networks with VoIP Smart Care services)
- Cheaper coverage. As it turns out, the more Cisco equipment you cover, the cheaper it gets when compared to the traditional SmartNet service.
When your Cisco Smart Care service is purchased and enabled, you'll receive the Cisco Smart Care appliance within a couple of days.
Through this appliance, all Cisco network equipment covered under the Smart Care contract, are monitored 24/7. This information is encrypted and sent directly to the Cisco Smart Care center for processing and is almost immediately made available to your Cisco Partner via the Smart Care portal.
Your Cisco partner can, and should, provide you with access to the Smart Care portal so you can see all information provided by Cisco, that is associated with your network. Reports and warnings generated by the Smart Care appliance are sent to your Cisco partner and can also be configured so you (the network administrator) receive them as well.
The Cisco Smart Care Appliance
The Cisco Smart Care appliance can only be deployed only by your authorised Cisco Smart Care partner. Keep in mind that the Cisco 'Smart Care certifed' certification is a separate certification in addition to the ones your partner might already have aquired. This means that no matter what certification level your Cisco partner has (SMB, Premier, Silver or Gold), they need to also be Smart Care certified.
The Cisco Smart Care appliance is basically a HP Proliant DL server with the Cisco brand on it, much like the Cisco Call Manager servers. The server is powered by an Intel Celeron Processor running at 3.2 Ghz with a 533Mhz bus and is bundled with a whopping 1GB RAM and a single Western Digital 74.6 GB SATA hdd.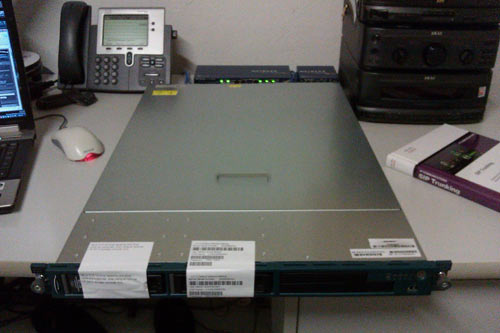 We must agree that the specifications for this server are extremely low, however because its running on a customised Linux kernel, we can justify the server's specifications. By the way, don't expect to find a floppy or DVD drive - they've been removed and replaced by plastic covers.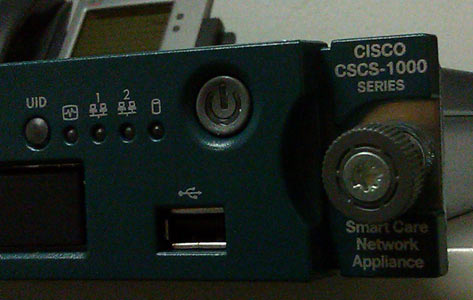 Speaking of covers, we thought it would be nice if we opened our Smart Care appliance and see what's inside it, and we did just that: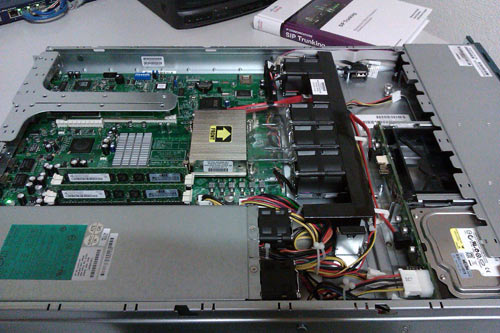 At a first glance, the server's fanless CPU, Ram and SATA hdd grabs your attention. In front of the CPU you'll notice an array of fans designed to constantly blow cool air through the CPU's heatsink keeping its temperature low, but also cooling at the same time the motherboard and other circuits. This is a classical design for these type of servers. On the lower left part of the picture you can see the server's power supply, bundled with two additional fans in front forcing cool air to enter the area from the front, skimming the hdd and cooling it as well.
Turning the appliance backwards, you'll find all necessary interfaces, including a serial port which is all you really need to setup the server.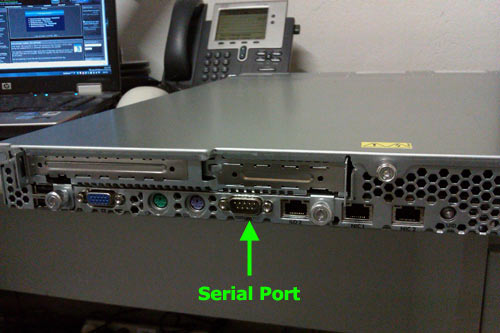 Provided with the server is a DB9 serial cable (shown below on the right side) which is basically a null-modem serial cable with the TX & RX pins in cross-over mode: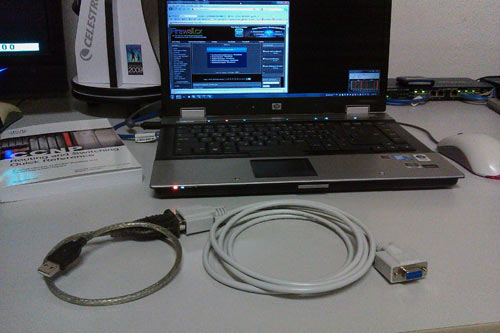 Since almost all laptops today do not feature a serial port, you'll need to use a USB-to-Serial adaptor like the one shown left in the above picture. Alternatively, you can simply connect a VGA monitor and a keyboard to proceed with the setup. We've decided to go ahead using the serial cable, rather than a monitor.
When you first power on the Smart Care, you'll get the well-know bios post test and a brief summary of the system's configuration as shown below: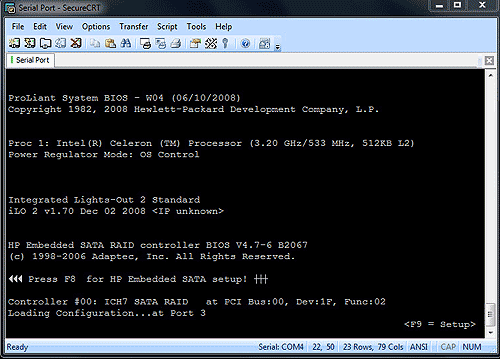 Following the post test is the system bootup which doesn't really show anything else other than a message telling you that its booting the kernel. Once the system has loaded, it will prompt for a login name and password. The factory defaults for this are 'cisco' and 'cisco'.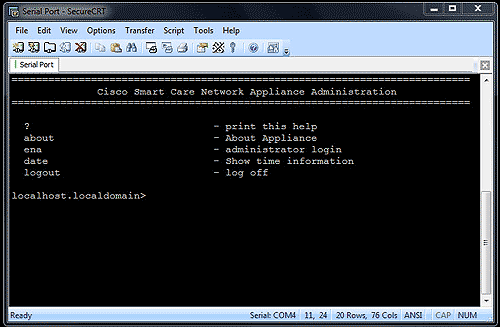 The first step required once your Smart Care appliance boots up, is to configure it with the appropriate network settings in order to obtain Internet access and update the appliance software.