| | | |
| --- | --- | --- |
| Connecting & Configuring SPA8000 with UC500, 520, 540, 560 & CallManager Express (CCME) - Low Cost FXS Analog Ports | | |
Written by Administrator
Tuesday, 17 April 2012 16:50
When it comes to connecting multiple analog phones to VoIP systems like Cisco's Unified Communication Manager Express (CallManager Express) or UC500 series (Includes UC520, UC540, UC560), the first thing that usually comes to mind is the expensive ATA 186/188 or newer ATA 187 devices (double the price of the older 186/188) that provide only two FXS analog ports per device.
While purchasing one or two ATA devices might be acceptable for up to two or four analog phones, this quickly becomes a very expensive practice for any additional FXS ports. Thankfully, there is a cheaper solution – the Cisco Linksys SPA8000.
The Cisco SPA8000 is an 8-port IP Telephony Gateway that allows connections for up to eight analog telephones (provides 8 FXS ports) to an IP-based data network. What many engineers are not aware of is that the SPA8000 can also be configured to connect to Cisco's CallManager Express or Cisco UC500 series IP Telephony system, decreasing dramatically the cost per FXS analog port of your VoIP network.
This article examines the necessary steps and configuration required to successfully connect a SPA8000 to a CallManager Express system.  The commands covered are identical to CallManager Express and all UC 500 series IP PBX systems (520, 540 & 560).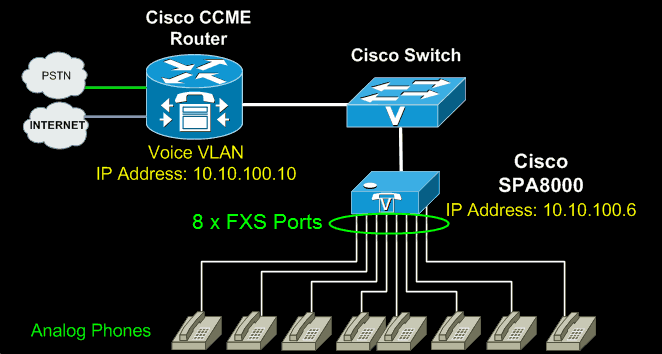 The diagram above shows the physical connection of the solution. The SPA8000, just like any VoIP device, is configured and connected to a network switch and assigned to VLAN2, the Voice VLAN in our example. By doing so, the SPA8000 is able to communicate with CallManager Express using the SIP Protocol as shown below.  On the back of the SPA8000, we've connected simple analog phones to FXS ports provided. These phones can be placed in areas where there is no need for the more expensive Cisco IP Phones, usually public areas, production environments etc.  Note that these analog phone devices can also be wireless analog phones.
Last Updated on Wednesday, 25 April 2012 13:32
Read more...
| | | |
| --- | --- | --- |
| How To Upgrade Cisco - Linksys SPA8000 Firmware | | |
Written by Administrator
Monday, 16 April 2012 18:21
The Cisco - Linksys SPA8000 is an 8-port IP Telephony Gateway that allows connections for up to eight analog telephones (provides 8 FXS ports) to a VoIP network using the Session Initiation Protocol (SIP).
This article covers extensively the upgrade process of the Cisco SPA8000 firmware so it can run the latest available version.
Upgrading The Cisco Linksys SPA8000 Firmware
Before any configuration is performed on the Cisco SPA8000, it is important to proceed with the upgrade of its firmware,to the latest available version. At the time of writing the latest firmware was released 6.1.10 (001) dated 6th May 2011 – Filename SPA8000_6.1.10.zip.  To save time and trouble, we've also made the firmware available at our Cisco Downloads section.
Upgrading the SPA8000 firmware is a very simple process. Download and unzip the provided file (2.13MB). Inside, we will find 3 files:

The spa8000-6-1-10-001.bin file is the firmware that will be loaded on to the SPA8000, the spa8000_rn_v6-1-10.pdf contains the release notes and upg-spa8000-6-1-10-001.exe is the firmware upgrade program.
At this point, we run the upg-spa8000-6-1-10-001.exe executable and are presented with a window similar to this one: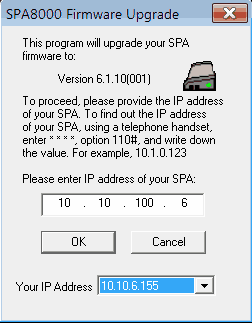 At this point, we enter the IP Address of the SPA8000 to be upgraded, in the provided field and click on OK. The application provides the ability to select a different source IP Address in case there are multiple network interface cards or multiple IP Addresses bound to the workstation. 
It is possible that a username and password will be requested by the program so it can log into the SPA8000, so we need to ensure this this information is available before the upgrade process begins.
Once the firmware upgrade has successfully completed, the SPA8000 will reboot, resetting the device to its default settings.  Note that the SPA8000 default IP Address will be 192.168.0.1, default username admin and no password.
As soon as the SPA8000 reboots with its new firmware, we can enter the web administration and configure the necessary IP Address, subnet mask, default gateway and DNS servers.
The screen below confirms the firmware upgrade and settings:
Last Updated on Wednesday, 25 April 2012 13:22
Read more...
| | | |
| --- | --- | --- |
| Book Review: Automating vSphere with VMware vCentre Orchestrator | | |
Written by Administrator
Thursday, 12 April 2012 17:33

Arani Mukherjee, a well respected Firewall.cx member for his contributions to our community, takes a look at one of VMware's latest press releases: Automating vSphere with VMware vCentre Orchestrator. Read what Arani has to say about this exciting title and how it can help engineers and administrators around the globe, get the most out of vCentre Orchestrator.

"To begin with, I was impressed with the informal style of the writer's delivery. Sometimes this makes or breaks a book's popularity. Virtualisation is no mean subject, and it can become confusing at times. But the writer's style has ensured that the content is presented in a very lucid way without compromising the reader's ability to grasp the matter. Core technical books can become a chore to read through, thanks to a writer's inability to explain things in a simple way. This cannot be said for this book, which is a welcome change..."

To continue reading this review, please click here: Automating vSphere with VMware vCentre Orchestrator.
Last Updated on Sunday, 06 May 2012 22:34
| | | |
| --- | --- | --- |
| Configuring Policy-Based Routing (PBR) with IP SLA Tracking - Auto Redirecting Traffic | | |
Written by Administrator
Tuesday, 03 April 2012 01:24
What is Policy-Based Routing?
Policy-Based Routing (PBR) is a very popular feature in Cisco routers, it allows the creation of policies that can selectively alter the path  that packets take within the network. Policy-Based Routing can be used to mark packets so that certain types of traffic are prioritized over the rest, sent to a different destination or exist via a different physical interface on the router.
Classification of interesting traffic is performed using Access-Control Lists (ACLs). These can be standard, extended or named access lists as we know them.
Once the interesting traffic is 'matched' with the use of ACLs, the router will perform the configured 'set' function which is defined by the Administrator. This 'set' function essentially tells the router what to do with the matched traffic and can include sending it to another gateway, dropping it, prioritizing it over other traffic, and much more.


Policy-Based Routing with IP SLA Monitoring for Automatic Fail-over
This article will show how to use Policy-Based Routing to mark a specific type of traffic, for example http, and redirect it to a web proxy (usually Linux Squid) so all network web traffic is automatically filtered through the proxy.
In such setups, network users have no knowledge of the proxy's existence as they are not required to configure their web browser to use the proxy. All user traffic is forwarded to a single gateway (Cisco ASA Firewall) and from there to router R1. This example is good solution for creating a transparent proxy with automatic failover.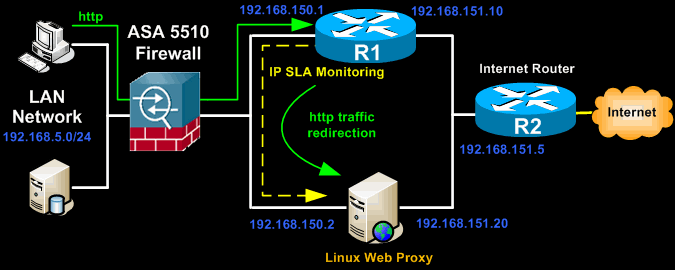 Router R1, with the help of Policy-Based Routing, 'marks' all http traffic and then performs the appropriate 'set' function, which is to redirect the selected traffic to the Linux proxy with IP address 192.168.150.2.
The Linux proxy accepts the traffic, makes the necessary checks defined by the Administrator and forwards it to the Internet via R2 router.
To complement our solution we've added IP SLA tracking so that R1 will continuously monitor the Linux proxy to ensure it has not failed or gone offline.  If for any reason router R1 loses connectivity with the Linux proxy, the IP SLA & Policy-Based Routing mechanism will stop redirecting http traffic to it and forward it directly to the Internet via R2, effectively bypassing the failed proxy.
The next diagram shows how router R1 will respond to a failure of the Linux proxy as described above:

This solution smartly combines Cisco's Policy-Based Routing with IP SLA tracking and provides a number of benefits, some of which are:
Automatic redirection of selected (http) traffic to the Linux Proxy.

Transparent web proxy to all network users, with web filtering according to company policy.

Automatic failover in case proxy fails.  Near-zero downtime.

Continuous monitoring of proxy after failure – automatic recovery if proxy is back online.
Note: More examples of IP SLA Tracking can be found in our Configuring Static Route Tracking using IP SLA (Basic) article.


How to Configure IP SLA Tracking for a Host
First step is to configure IP SLA tracking for the desired host. This will ensure R1 router will continuously monitor the Linux proxy and stop redirecting http traffic to it in the event it fails:
Last Updated on Sunday, 29 April 2012 00:38
Read more...
| | | |
| --- | --- | --- |
| Product Review - GFI LanGuard Network Security Scanner 2011 | | |
Written by Administrator
Monday, 02 April 2012 18:08


Review by Alan Drury and John Watters
Introduction
With LanGuard 2011 GFI has left behind its old numbering system (this would have been Version 10), perhaps in an effort to tell us that this product has now matured into a stable and enterprise-ready contender worthy of  serious consideration by small and medium-sized companies everywhere.
Well, after reviewing it we have to agree.
In terms of added features the changes here aren't as dramatic as they were between say Versions 8 and 9, but what GFI have done is to really consolidate everything that LanGuard already did so well, and the result is a product that is rock-solid, does everything that it says on the tin and is so well designed that it's a joy to use.
Installation

As usual for GFI we downloaded the fully-functional evaluation copy (124Mb) from its website and received our 30-day trial licence by email shortly afterwards. Permanent licences are reasonably priced and on a sliding scale that gets cheaper the more target IP addresses you want to scan. You can discover all the targets in your enterprise but you can only scan the number you're licensed for.

Installation is easy. After selecting your language your system is checked to make sure it's up to the job: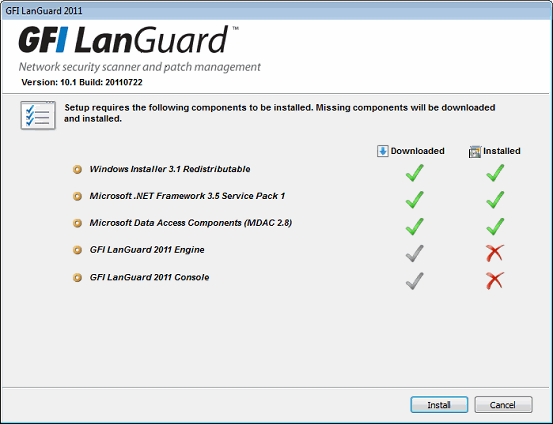 The installer will download and install anything you're missing but it's worth noting that if you're on a secure network with no internet access then you'll have to get them yourself.

Once your licence is in place the next important detail is the user account and password LanGuard will use to access and patch your machines. We'd suggest a domain account with administrator privileges to ensure everything runs smoothly across your whole estate. And, as far as installation goes, that's pretty much it.
Scanning
LanGuard opened automatically after installation and we were delighted to find it already scanning our host machine:
Last Updated on Monday, 19 November 2012 01:13
Read more...
| | | |
| --- | --- | --- |
| How to Upgrade - Update Cisco ATA186 / 188 Firmware and Reset to Factory Default | | |
Written by Administrator
Thursday, 29 March 2012 23:41
The Cisco ATA 186 / 188

The Cisco ATA 186/188 device is well known amongst any Cisco VoIP engineer. It is used allow analog phone devices to connect to the VoIP network and function as they would normally do with any other PBX.  The Cisco ATA186 / 188 was (and still is) one of the most useful (and cheapest) devices for any VoIP Network.  Many companies use the Cisco ATA in areas such as production lines and public areas, where expensive Cisco IP Phones are not required.


As noted, there are two different models, the Cisco ATA 186 & 188. One of the major differences between the two models is that the Cisco ATA 188 has two RJ-45 10/100-Mbps Ethernet ports, whereas the Cisco ATA 186 has only a single10 Mbps Ethernet port. One of the ports on the Cisco ATA 188 is an uplink port (connects to the switch), and the other one is a data port, allowing you to connect another network device e.g workstation or network printer, just as you would do with a Cisco IP Phone that has two Ethernet ports e.g Cisco 7911G, 7945G e.t.c.

Both models have two FXS interfaces (shown above, on the right side behind each ATA) which are used to connect two standard analog telephones or fax machines. The Cisco ATA is connected to the network via an Ethernet interface (uplink port) and can be configured via DHCP or manually. The Cisco ATA needs a 5V DC external power supply to operate . It is important to add that the Cisco ATA 186 & 188 device does not support Inline Ethernet power or Power over Ethernet (PoE).
Upgrading the Cisco ATA 186 - 188 Firmware


As with most IP Phones and VoIP network devices, the Cisco ATA firmware should be periodically updated to the latest available version. This will help ensure smooth operation and most importantly, fix any bug issues that might be present in older firmware versions.

Upgrading the Cisco ATA firmware is a fairly straight-forward process and won't require too much effort, as long as all described steps are followed. At the time of writing this article, the latest available firmware for the Cisco ATA 186 - 188 is version 3.2(4) (file name ata_03_02_04_sccp_090202_a.zip ) with release date 23/2/2009.  For the purpose of this article, this image has been made available from our Cisco Download section. It is important to note that the upgrade procedure is the same for the SCCP (Skinny Protocol), SIP and H.323 firmware.

Firstly download and upzip the file in a directory, preferably c:\ata .  The zip file contains 32 files of which two are the ones we are mostly interested in and these are:

- sata186us.exe 72Kb.   This executable will serve the firmware to the ATA, so it may upload and install it.
- ATA030204SCCP090202A.zup 273Kb.  This is the firmware file for the ATA device.

To begin, open a DOS prompt and switch to the directory where you have unzipped the downloaded zip file. We assume this is the C:\ata directory. Once there, run the sata186us.exe executable with the following parameters:
Last Updated on Friday, 30 March 2012 19:12
Read more...
| | | |
| --- | --- | --- |
| Updating Your Linux Server - How to Update Linux Workstations and Operating Systems | | |
Written by Administrator
Wednesday, 28 March 2012 23:58
Like any other software, an operating system needs to be updated. Updates are required not only because of the new hardware coming into the market, but also for improving the overall performance and taking care of security issues.
Updates are usually done in two distinct ways. One is called the incremental update, and the other is the major update. In the incremental updates, components of the operating system undergo minor modifications. Such modifications are usually informed to users over the net. Users can download and install the modifications serially using the update managing software.
However, some major modifications require so many changes involving several packages simultaneously, it becomes rather complicated to accomplish serially over the net. This type of modification is best done by a fresh installation, after acquiring the improved version of the operating system.
Package management is one of the most distinctive features distinguishing major Linux distributions. Major projects offer a graphical user interface where users can select a package and install it with a mouse click. These programs are front-ends to the low-level utilities to manage the tasks associated with installing packages on a Linux system. Although many desktop Linux users feel comfortable installing packages through these GUI tools, the command-line package management offers two excellent features not available in any graphical package management utility, and that is power and speed.
The Linux world is sharply divided into three major groups, each swearing by the type of package management they use - the "RPM" group, the "DEB" group and the "Slackware" group. There are other fragment groups using different package management types, but they are insignificantly minor in comparison. Among the three groups, RPM and DEB are by far the most popular and several other groups have been derived from them. Some of the Linux distributions that handle these package managements are:
RPM - RedHat Enterprise/Fedora/CentOS/OpenSUSE/Mandriva, etc.
DEB - Debian/Ubuntu/Mint/Knoppix, etc. 
RPM - RedHat Package Manager
Although RPM was originally used by RedHat, this package management is handled by different types of package management tools specific to each Linux distribution. While OpenSUSE uses the "zypp" package management utility, RedHat Enterprise Linux (REL), Fedora and CentOS use "yum", and Mandriva and Mageia use "urpmi".
Therefore, if you are an OpenSUSE user, you will use the following commands:
Last Updated on Friday, 30 March 2012 14:54
Read more...
| | | |
| --- | --- | --- |
| Implementing Virtual Servers and Load Balancing Cluster System with Linux | | |
Written by Administrator
Monday, 26 March 2012 00:00
What is Server Virtualization?
Server virtualization is the process of apportioning a physical server into several smaller virtual servers. During server virtualization, the resources of the server itself remain hidden. In fact, the resources are masked from users, and software is used for dividing the physical server into multiple virtual machines or environments, called virtual or private servers.

This technology is commonly used in Web servers. Virtual Web servers provide a very simple and popular way of offering low-cost web hosting services. Instead of using a separate computer for each server, dozens of virtual servers can co-exist on the same computer.

There are many benefits of server virtualization. For example, it allows each virtual server to run its own operating system. Each virtual server can be independently rebooted without disturbing the others. Because several servers run on the same hardware, less hardware is required for server virtualization, which saves a lot of money for the business. Since the process utilizes resources to the fullest, it saves on operational costs. Using a lower number of physical servers also reduces hardware maintenance.

In most cases, the customer does not observe any performance deficit and each web site behaves as if it is being served by a dedicated server. However, the resources of the computer being shared, if a large number of virtual servers reside on the same computer, or if one of the virtual servers starts to hog the resources, Web pages will be delivered more slowly.

There are several ways of creating virtual servers, with the most common being virtual machines, operating system-level virtualization, and paravirtual machines.
How Are Virtual Servers Helpful
The way Internet is exploding with information, it is playing an increasingly important role in our lives. Internet traffic is increasing dramatically, and has been growing at an annual rate of nearly 100%. The workload on the servers is simultaneously increasing significantly so that servers frequently become overloaded for short durations, especially for popular web sites.
To overcome the overloading problem of the servers, there are two solutions. You could have a single server solution, such as upgrading the server to a higher performance server. However, as requests increase, it will soon be overloaded, so that it has to be upgraded repeatedly. The upgrading process is complex and the cost is high.
The other is the multiple server solution, such as building a scalable network service system on a cluster of servers. As load increases, you can just add a new server or several new servers into the cluster to meet the increasing requests, and a virtual server running on commodity hardware offers the lowest cost to performance ratio. Therefore, for network services, the virtual server is a highly scalable and more cost-effective for building server cluster system.
Virtual Servers with Linux
Highly available server solutions are done by clustering. Cluster computing involves three distinct branches, of which two are addressed by RHEL or Red Hat Enterprise Linux:
Ø    Load balancing clusters using Linux Virtual Servers as specialized routing machines to dispatch traffic to a pool of servers.
Ø    Highly available or HA Clustering with Red Hat Cluster Manager that uses multiple machines to add an extra level of reliability for a group of services.
Load balancing Cluster System Using RHEL Virtual Servers
When you access a website or a database application, you do not know if you are accessing a single server or a group of servers. To you, the Linux Virtual Server or LVS cluster appears as a single server. In reality, there is a cluster of two or more servers behind a pair or redundant LVS routers. These routers distribute the client requests evenly throughout the cluster system.
Administrators use Red Hat Enterprise Linux and commodity hardware to address availability requirements, and to create consistent and continuous access to all hosted services.
In its simplest form, an LVS cluster consists of two layers. In the first layer are two similarly configured cluster members, which are Linux machines. One of these machines is the LVS router and is configured to direct the requests from the internet to the servers. The LVS router balances the load on the real servers, which form the second layer. The real servers provide the critical services to the end-user. The second Linux machine acts as a monitor to the active router and assumes its role in the event of a failure.
The active router directs traffic from the internet to the real servers by making use of Network Address Translation or NAT. The real servers are connected to a dedicated network segment transfer all public traffic via the active LVS router. The outside world sees this entire cluster arrangement as a single entity.
LVS with NAT Routing
The active LVS router has two Network Interface Cards or NICs. One of the NICs is connected to the Internet and has a real IP address on the eth0 and a floating IP address aliased to eth0:1. The other NIC connects to the private network with a real IP address on the eth1, and a floating address aliased to eth1:1.
Last Updated on Thursday, 29 March 2012 00:01
Read more...
| | | |
| --- | --- | --- |
| Introduction To Network Security - Part 2 | | |
Written by Administrator
Tuesday, 06 March 2012 00:00
By Sahir Hidayatullah - Firewall.cx Security Advisor
Tools An Attacker Uses
Now that we've concluded a brief introduction to the types of threats faced by both home users and the enterprise, it is time to have a look at some of the tools that attackers use.
Keep in mind that a lot of these tools have legitimate purposes and are very useful to administrators as well. For example I can use a network sniffer to diagnose a low level network problem or I can use it to collect your password. It just depends which shade of hat I choose to wear.
General Network Tools
As surprising as it might sound, some of the most powerful tools especially in the beginning stages of an attack are the regular network tools available with most operating systems. For example and attacker will usually query the 'whois' databases for information on the target. After that he might use 'nslookup' to see if he can transfer the whole contents of their DNS zone (called a zone transfer -- big surprise !!). This will let him identify high profile targets such as webservers, mailservers, dns servers etc. He might also be able to figure what different systems do based on their dns name -- for example sqlserver.victim.com would most likely be a database server. Other important tools include traceroute to map the network and ping to check which hosts are alive. You should make sure your firewall blocks ping requests and traceroute packets.
Exploits
An exploit is a generic term for the code that actually 'exploits' a vulnerability in a system. The exploit can be a script that causes the target machine to crash in a controlled manner (eg: a buffer overflow) or it could be a program that takes advantage of a misconfiguration.
A 0-day exploit is an exploit that is unknown to the security community as a whole. Since most vulnerabilities are patched within 24 hours, 0-day exploits are the ones that the vendor has not yet released a patch for. Attackers keep large collections of exploits for different systems and different services, so when they attack a network, they find a host running a vulnerable version of some service and then use the relevant exploit.
Port Scanners
Most of you will know what portscanners are. Any system that offers TCP or UDP services will have an open port for that service. For example if you're serving up webpages, you'll likely have TCP port 80 open, FTP is TCP port 20/21, Telnet is TCP 23, SNMP is UDP port 161 and so on.
A portscanner scans a host or a range of hosts to determine what ports are open and what service is running on them. This tells the attacker which systems can be attacked.
For example, if I scan a webserver and find that port 80 is running an old webserver -- IIS/4.0, I can target this system with my collection of exploits for IIS 4. Usually the port scanning will be conducted at the start of the attack, to determine which hosts are interesting.
This is when the attacker is still footprinting the network -- feeling his way around to get an idea of what type of services are offered and what Operating Systems are in use etc. One of the best portscanners around is Nmap (http://www.insecure.org/nmap). Nmap runs on just about every operating system is very versatile in how it lets you scan a system and has many features including OS fingerprinting, service version scanning and stealth scanning. Another popular scanner is Superscan (http://www.foundstone.com) which is only for the windows platform.
Network Sniffers
A network sniffer puts the computers NIC (network interface card or LAN card) into 'promiscuous mode'. In this mode, the NIC picks up all the traffic on its subnet regardless of whether it was meant for it or not. Attackers set up sniffers so that they can capture all the network traffic and pull out logins and passwords. The most popular network sniffer is TCPdump as it can be run from the command line -- which is usually the level of access a remote attacker will get. Other popular sniffers are Iris and Ethereal.
When the target network is a switched environment (a network which uses layer 2 switches), a conventional network scanner will not be of any use. For such cases, the switched network sniffer Ettercap (http://ettercap.sourceforge.net) and WireShark (http://www.wireshark.org) are very popular. Such programs are usually run with other hacking capable applications that allow the attacker to collect passwords, hijack sessions, modify ongoing connections and kill connections. Such programs can even sniff secured communications like SSL (used for secure webpages) and SSH1 (Secure Shell - a remote access service like telnet, but encrypted).
Vulnerability Scanners
A vulnerability scanner is like a portscanner on steroids, once it has identified which services are running, it checks the system against a large database of known vulnerabilities and then prepares a report on what security holes are found. The software can be updated to scan for the latest security holes. These tools are very simple to use unfortunately, so many script kiddies simply point them at a target machine to find out what they can attack. The most popular ones are Retina (http://www.eeye.com), Nessus (http://www.nessus.org) and GFI LanScan (http://www.gfi.com). These are very useful tools for admins as well as they can scan their whole network and get a detailed summary of what holes exist.
Password Crackers
Once an attacker has gained some level of access, he/she usually goes after the password file on the relevant machine. In UNIX like systems this is the /etc/passwd or /etc/shadow file and in Windows it is the SAM database. Once he gets hold of this file, its usually game over, he runs it through a password cracker that will usually guarantee him further access. Running a password cracker against your own password files can be a scary and enlightening experience. L0phtcrack cracked my old password fR7x!5kK after being left on for just one night !
There are essentially two methods of password cracking :
Dictionary Mode - In this mode, the attacker feeds the cracker a word list of common passwords such as 'abc123' or 'password'. The cracker will try each of these passwords and note where it gets a match. This mode is useful when the attacker knows something about the target. Say I know that the passwords for the servers in your business are the names of Greek Gods (yes Chris, that's a shout-out to you ;)) I can find a dictionary list of Greek God names and run it through the password cracker.
Most attackers have a large collection of wordlists. For example when I do penetration testing work, I usually use common password lists, Indian name lists and a couple of customized lists based on what I know about the company (usually data I pick up from their company website). Many people think that adding on a couple of numbers at the start or end of a password (for example 'superman99') makes the password very difficult to crack. This is a myth as most password crackers have the option of adding numbers to the end of words from the wordlist. While it may take the attacker 30 minutes more to crack your password, it does not make it much more secure.
Brute Force Mode - In this mode, the password cracker will try every possible combination for the password. In other words it will try aaaaa, aaaab, aaaac, aaaad etc. this method will crack every possible password -- its just a matter of how long it takes. It can turn up surprising results because of the power of modern computers. A 5-6 character alphanumeric password is crackable within a matter of a few hours or maybe a few days, depending on the speed of the software and machine. Powerful crackers include l0phtcrack for windows passwords and John the Ripper for UNIX style passwords.
For each category, I have listed one or two tools as an example. At the end of this article I will present a more detailed list of tools with descriptions and possible uses.
What is Penetration-Testing?
Penetration testing is basically when you hire (or perform yourself) security consultants to attack your network the way an attacker would do it, and report the results to you enumerating what holes were found, and how to fix them. It's basically breaking into your own network to see how others would do it.
While many admins like to run quick probes and port scans on their systems, this is not a penetration test -- a penetration tester will use a variety of specialised methods and tools from the underground to attempt to gain access to the network. Depending on what level of testing you have asked for, the tester may even go so far as to call up employees and try to social engineer their passwords out of them (social engineering involves fooling a mark into revealing information they should not reveal).
An example of social engineering could be an attacker pretending to be someone from the IT department and asking a user to reset his password. Penetration testing is probably the only honest way to figure out what security problems your network faces. It can be done by an administrator who is security aware, but it is usually better to pay an outside consultant who will do a more thorough job.
I find there's a lack of worthwhile information online about penetration testing -- nobody really goes about describing a good pen test, and what you should and shouldn't do. So I've hand picked a couple of good papers on the subject and then given you a list of my favourite tools, and the way I like to do things in a pen-test.
This is by no means the only way to do things, it's like subnetting -- everyone has their own method -- this is just a systematic approach that works very well as a set of guidelines. Depending on how much information you are given about the targets as well as what level of testing you're allowed to do, this method can be adapted.
Papers Covering Penetration Testing
I consider the following works essential reading for anyone who is interested in performing pen-tests, whether for yourself or if you're planning a career in security:
Last Updated on Tuesday, 06 March 2012 02:55
Read more...
<< Start < Prev 1 2 3 4 5 6 7 8 9

10

Next > End >>


Page 10 of 39