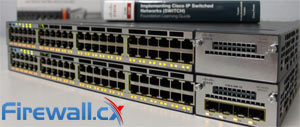 This article shows how to reset a password on a Cisco Catalyst 3750-X (stacked or single unit) and Cisco Catalyst 3560-x switch without losing its startup configuration. The Cisco password recovery procedure involves interrupting the switch's normal boot procedure, renaming the flash:config.text (that's the startup-config file for switches) to something else e.g flash:config.text.old so that the configuration file is skipped during bootup.
Once the switch has loaded its operating system we can enter privileged-exec mode, rename back the flash:config.text.old to flash:config.text(startup-config), copy the startup-config file to memory (DRAM), make the necessary password changes and save the configuration.
Password Recovery – Reset Procedure
The procedure described below assumes the password recovery mechanism is enabled (by default, it is) and there is physical access to the switch or stack (3750-X only).
Note: If this procedure is being performed on a 3750-X stack, it is important to understand that all switches participating in the stack should be powered off and only the Master switch is powered on when initiating the password recovery procedure. The Master switch can be easily identified by searching for the switch with the green "Master" LED on.
Step 1
On a 3750-X switch, Power off the entire stack or standalone switch. On a Catalyst 3560-X switch, power off the switch. Connect your console cable to the switch – 3750-X Master or the standalone switch.
Step 2
Reconnect the power to the switch (standalone 3750-X or 3750-X) or stack master (3750-X stack only). Within 10 seconds, press and hold the Mode button while the System LED is flashing green. After the System LED turns amber and then solid green, release the Mode button.
If the process has been followed correctly, the following message should be displayed:
The system has been interrupted prior to initializing the flash file system. The following commands will initialize the flash file system and finish loading the operating system software:
flash_init
load_helper
boot
Step 3
Now initialize the flash file system, rename the startup configuration file (config.text) and boot the IOS: